Weightless
8-Week program to rebuild your feminine confidence and grace, dancing your way there.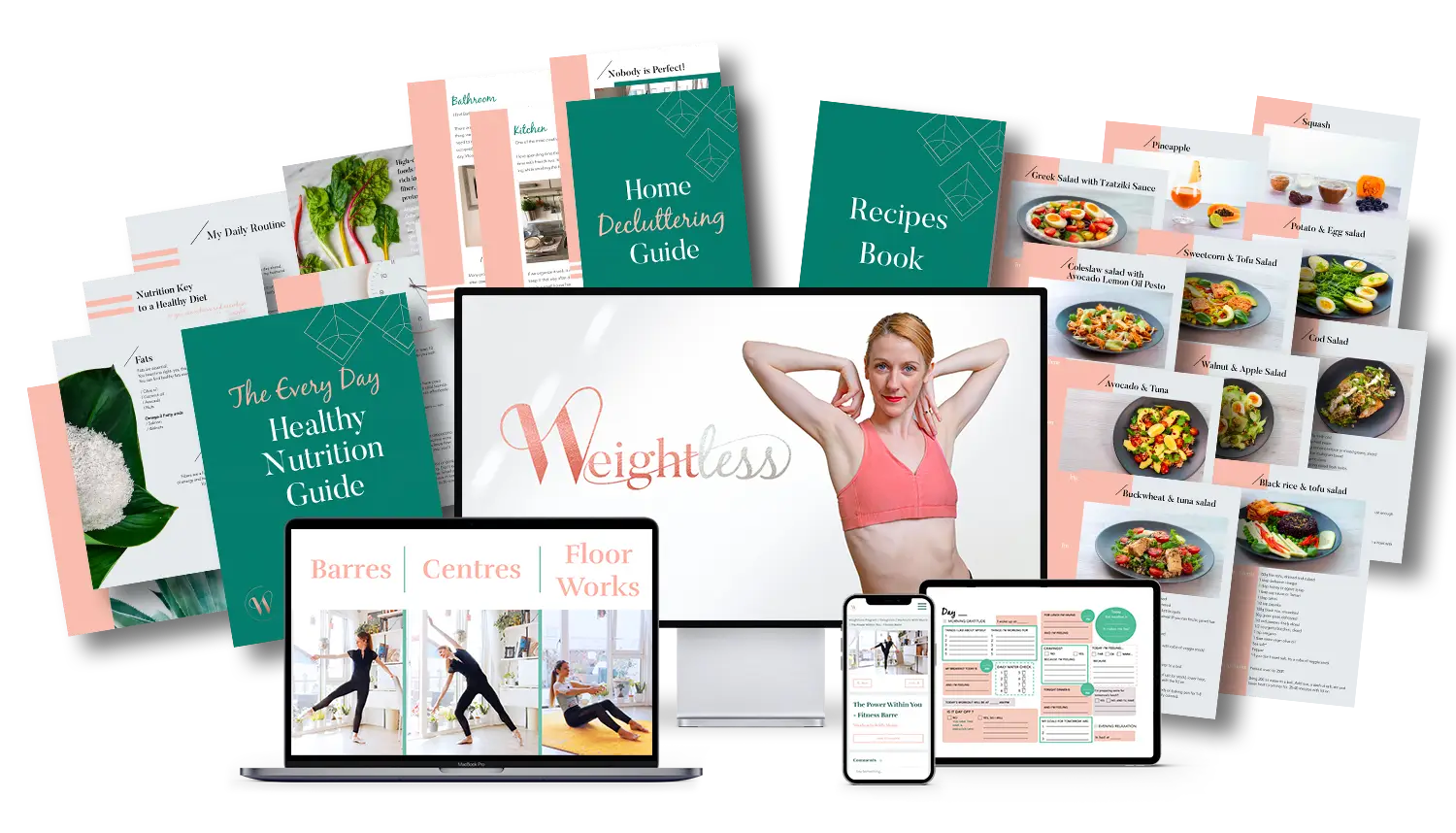 Hi my dear, Alessia here.
Have you ever found yourself ready for a change but no idea where to start?
You think it's about what you wear, then what you eat, the old clothes that are in the closet that you haven't been wearing for decades…

Then you sign up at the gym because you need a change, maybe by spending time there something will happen… you're still not sure and you give up eventually.
True story! I've never felt strong enough because of my young and tiny look.
Yes, me too.
But I wanted to feel like a woman, a strong one, the one in control, the one that people listen to, that she can stand up for herself, she looks great all the time and her life is great.
Is it even possible?
My journey begins when I started teaching Ballet and Ballet Fitness online.
By sharing my art and creating videos for millions of people online I discovered what made me blossom, making me feel strong, in control, confident and proud of the image I saw reflected in the mirror every morning.
It was dancing every day just for the joy of it, enjoying eating what fuels my body and taking care of the environment around me.
Simple right? Well, yes, if you know how and have a clear path to follow. It took me years to understand the right balance of these three foundational elements.
Now I want to share with you this path that I like to call "WEIGHTLESS".
Messages from my women warriors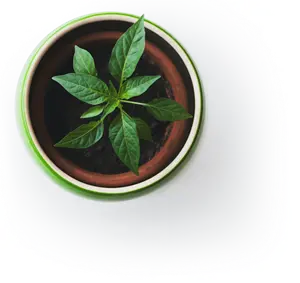 Let Dance transform
your mind and body
This 8-week program has been carefully crafted to transform both your body and spirit to find radiance, confidence and grace. 
The journey extends beyond mere physical exercise, incorporating the elegance of ballet-inspired workouts.

We're celebrating the distinct beauty and strength of femininity, as we shape ourselves through the delightful experience of physical expression and movement and tackling the environment around us to reflect our new presence.
A day-by-day-journey
We all love being guided but not overwhelmed, this is why Weighless will give you clear directions daily to achieve your goals.
No more: "What do I do today?".
Weighless will make you feel accomplished every day.
Start Your Transformation Now
Dancing 3 times a week will give you the benefits and freedom that your body deserves. It's not just a workout, it will gradually help you build confidence every step you take, as well as build lean muscles without feeling extremely sore and groggy the day after.


Well, you will feel some good o'l muscle work galore, but it's what I call: "good - satisfying- want more of this- pain".
Are the workouts all different? Of course!
It doesn't matter how fit you are, I'm a big advocate of going back to basics, then  When we are beginners, we love feeling safe and taking time to understand where our feet and arms are going, and for my fellow fitness veterans, I promise you, I will make you sweat and discover muscles your body decided to forget about.
A healthy body can be seen on the outside, but we have to look after the inside first. I believe that a balanced lifestyle that starts from within. That's why Weightless includes a comprehensive guide to healthy nutrition. Discover delicious recipes and learn how to nourish your body in a way that supports your fitness goals. Fuel yourself with vitality and discover the wonders of wholesome eating. Don't worry you'll never have to follow a restrictive diet ever again, finding balance in your lifestyle is also understanding how to enjoy your favourite dessert every now and then!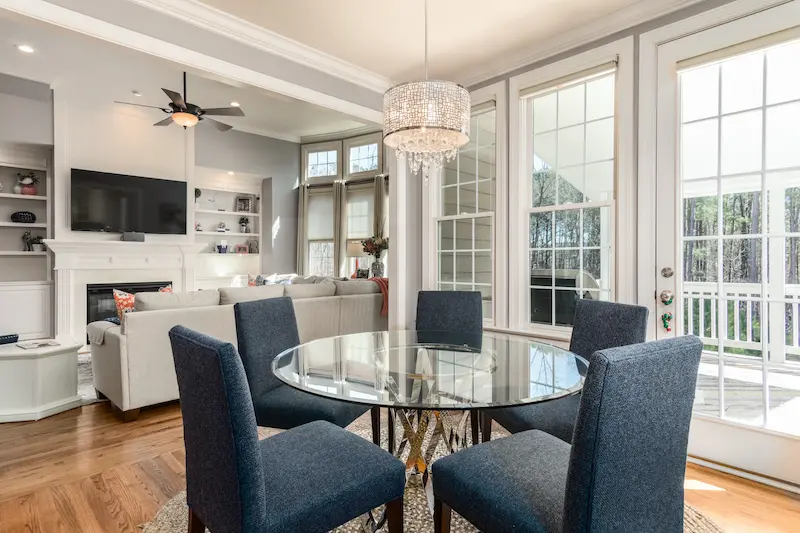 Our environment plays a major role in the way we feel and will affect our productivity and mood if we don't look after it too. 

A cluttered environment can hinder your progress and weigh you down.

Weighless extends beyond physical exercise

by offering this decluttering guide. Create a harmonious space that reflects the positive changes happening within you. By tidying up your surroundings, you'll find clarity and peace of mind.
I've also added some powerful BONUSES
Messages from my women warriors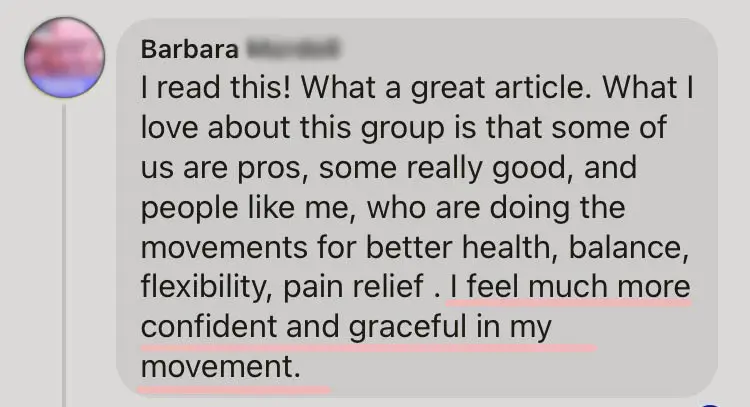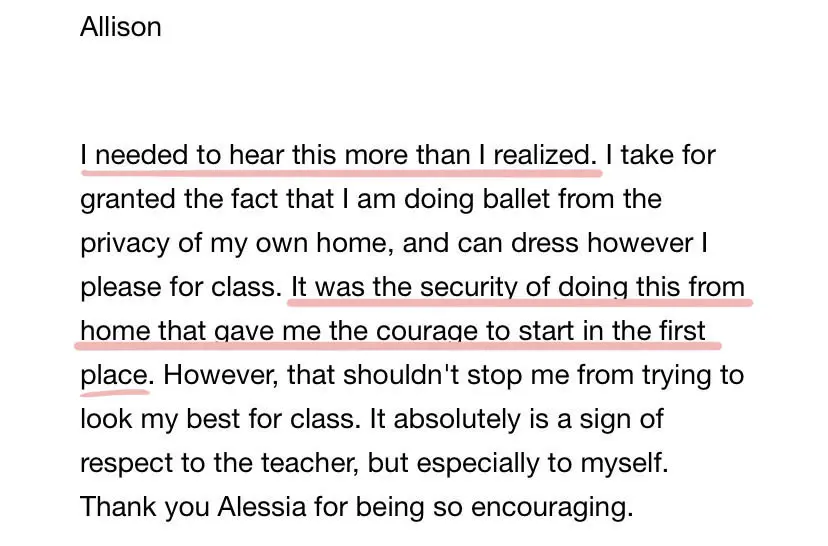 Weightless Program
8-Week program to rebuild your feminine confidence and grace, dancing your way there.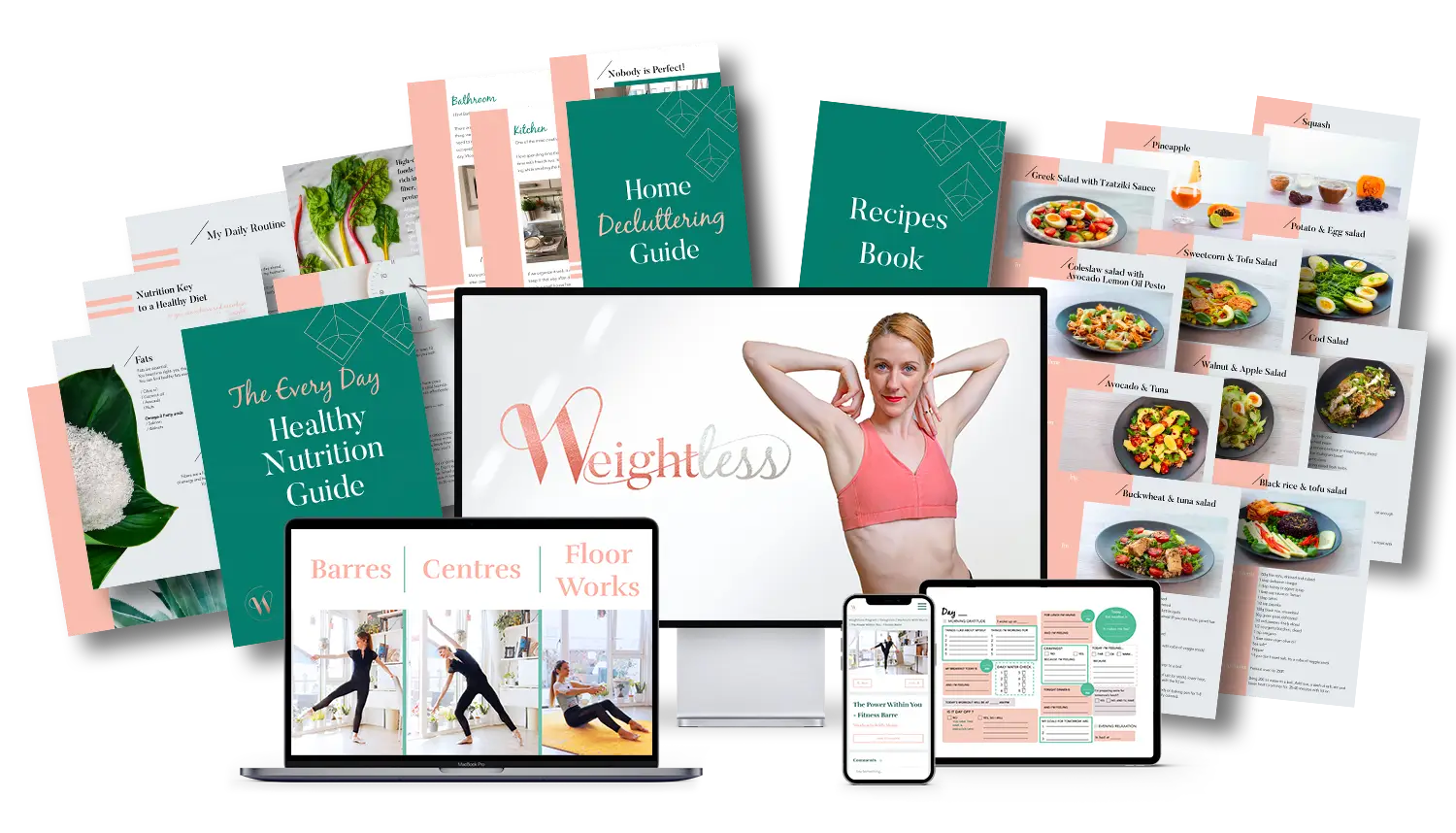 What if this is not for you?
Good question, darling! I'm so glad you're curious.
Yes, I could tell you all about how much heart and soul I've poured into designing this life-changing journey for you. But honestly, that might not matter. We're all different, like beautiful flowers in a garden, and what works for one might not work for another.
But imagine, what if this turns out to be just perfect for you?
So, the best way for you to know if this program suits you is to give it a try. That's all I'm asking.
Take your time, explore the material, and begin to bring in these exciting new healthy habits that I can't wait for you to experience.
If, after 14 days, you feel like your Netflix subscription holds more value than this program, don't fret. I'll return your full payment, no questions asked.
Messages from my women warriors
I never danced, is this for me?
Is this program for beginners or advanced?
Is there an age limit to participate?
I'm not good with organizing myself, will you help?
Do I have to follow a restrictive diet?
How do I access the content after purchase?
Can you imagine?
You have mastered new healthy habits, dancing regularly made you happier, you look in the mirror smiling, your environment calms you down instead of making you feel "behind", you feel a stronger and more powerful version of yourself and people around you start to notice too.
All this is only 8 weeks away.
Start Your Transformation Today